Have you ever made any photo books? They are so much fun to make, and are such wonderful keepsakes or gifts! You can make them simple or elaborate depending on your creativity and your time frame.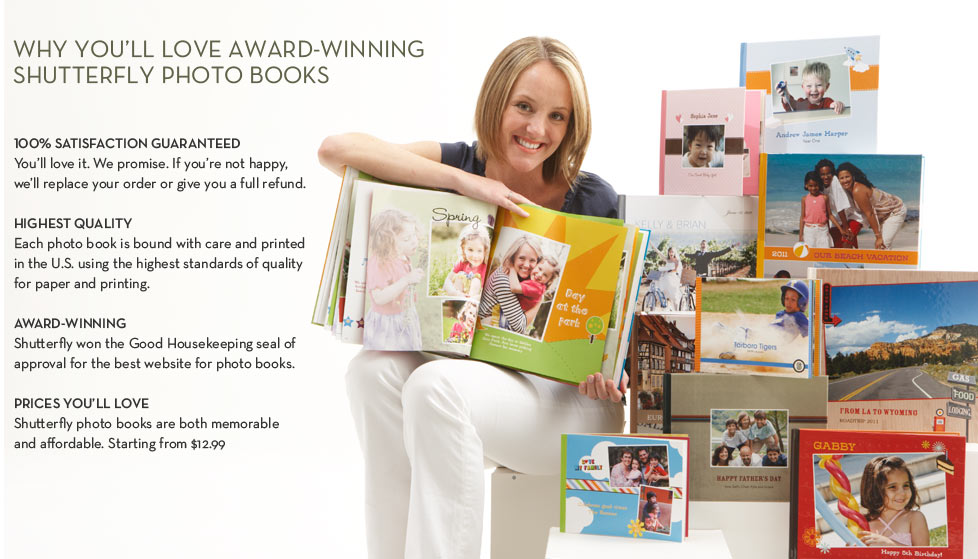 I've used several different photo companies to make and order photo books and one of my favorites is
Shutterfly
! I've ordered
photos
,
cards
,
calendars
, and
photo books
from them for years, and have been pleased with the quality! I also love the sales and special offers they run throughout the year. :)
Recently, Shutterfly upgraded their photo book designer to create the all new
Custom Path
books, and just last month I had the opportunity to try it out. Wow!! It's SO much better than it used to be. Now you can do almost anything you want to with your book! Crop your pictures, turn them, place them exactly where you want them, add text anywhere, decorate your pages with "stickers", and so much more!! It's just like you're doing a scrapbook! You can now personalize your book just the way YOU want it!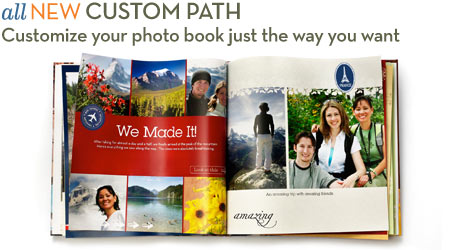 There are LOTS of different styles you can choose between from everyday, to baby, to wedding, to seasonal, birthday, travel, and more!! Choose one theme for the whole book or make different sections of your book with different themes! You're the creator of this book and you can make it just the way you want it to be! No one else knows your pictures like you do!
If you're short on time however, you can choose one of their time saving helps. If you have some time but not a lot, let them place the photos you have chosen for your photo book project into your book for you. They'll place them in chronological order throughout the pages of your book. This saves a good deal of time, and if you decide you don't quite like the layout of a certain page, no problem. You can fix that one page and then go on. I did this method the last time I ordered a books since I only had an hour or two to complete the book!! :)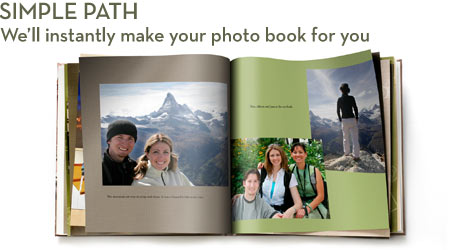 Then there is the
Simple Path
book where Shutterfly makes your book completely. If you're running really short on time, this method may be for you. These books won't be quite as personalized, but they'll still be a great keepsake filled with priceless photos!
So, if you're starting to think about Christmas gifts or just have lots of photos that need something done with them, check out Shutterfly's photo books! You'll get high quality beautifully done photo books filled with precious memories. (Or if you're searching for another kind of photo gift, Shutterfly also offers
photo cards, stationary
,
mugs
, and many other
gift options
!)
Shutterfly currently has their
photo books
on sale. You can get up to 30% off through the 17th. You can also get FREE Shipping on orders of $30 or more. Plus, if you shop through
E-bates
, you'll receive 8% CASH BACK on your purchase!! :) I love combining cash back with sales!! :)
Do you have your own blog? Shutterfly is giving away 1,000 free photo books to eligible bloggers!