We are excited to announce that you can now purchase
Home Fires of the Great War
online!
Here's the synopsis of the book:
"Thirteen-year-old Maria Mitchell, known to all as Ria, and her friend Lydia have been assigned to write a report on a hero or heroine of the Great War (World War I) for a school project. Instead of picking some well known figure, the two friends decide to search for someone forgotten or unknown. When asked to help, Emma Mitchell, Ria's mom, brings out old letters she and a cousin wrote during the war. The girls are sure the letters hold the key to their success of finding a forgotten hero! But will they? Is that all that these letters bring to light? Join Ria and Lydia, Mrs. Mitchell, an old neighbor called Corporal, and others as they re-live the years of home life during the war."
And here's what one family had to say about this book:
"We used this book as a family read-aloud and all of us were crying and laughing so hard that we cried. It was one of the most fun books we have read. The characters are real and inviting. Their antics are strange and engaging. It will give you a new perspective on the war that changed America forever."
If you love to read, enjoy history, like to be drawn into the lives of the people in the story so that you can share their joys, their sorrows, laugh with them, and cry with them, see God's hand in their lives, and just enjoy a good story, I'd love to encourage you to try out
Home Fires of the Great War
!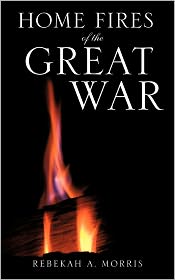 You can order through
Amazon
, or through
Barnes and Noble
! You will also soon be able to order this through
Light of Faith Resources
, but my brother hasn't had time to get it put on the website yet. :)
Right now if you're looking for the best price (like I usually do :)),
Barnes and Noble
is the best way to go. Their price is $14.79 which is 48% off the retail price! PLUS, if you purchase this through
Shop at Home
, you'll get an extra 6% cash back on your purchase!
If you haven't already signed up for a
Shop at Home
account, now would be a great time to do it! It's FREE to sign up and you'll receive a $5 sign up bonus! That's like getting an extra $5 off your purchase! :)
Or, if you have Amazon gift cards you've been hanging on to from Swagbucks, online surveys, or something, you might want to choose to purchase
Home Fires of the Great War
from Amazon for $22.03 (24% off of retail).
The third option is to wait just a little and purchase an autographed copy through Light of Faith Resources! My sister said she'd be willing to sign books for anyone who wanted one, but those books would have to be purchased through
Light of Faith
either online or at one of the homeschool conventions we will be at.
So there you have it, three options for purchasing this hot off the press new release book!
Note: The links on this post are my referral links. If you order or sign up through them I get a small commission. I greatly appreciate your support!